Dirty Tile? Impossibly Dirty Grout?
Let Care Rite Cleaning Specialists power the dirt away
With the SX-12 Tile & Grout Cleaning Tool.
After cleaning tile & grout at two different houses one thing that happened was that I couldn't get some grout lines clean and upon asking some questions, found out that a kitchen door way was made and the floor patched. Not knowing the correct grout color the home owners dyed it black to match. Oh well. The other thing was after I cleaned tile & grout at a house that was just purchased, the new owners were thrilled with how clean the floor came, but were not so sure if they liked the new color scheme. The floors now had more pinks than earth tone colors.
Look at this!
"Click here NOW for a FREE Estimate!" 
*Fast
*Effective
*Affordable
All calls are answered by the owner.
Contact me, Dave, at 343-2160 today!
CERAMIC             PROCELIN            QUARRY              SALTILLO
STONE POLISHING
Also Available:
                Sealers                 Grout Repair & Coloring               Other Hard Surface Cleaning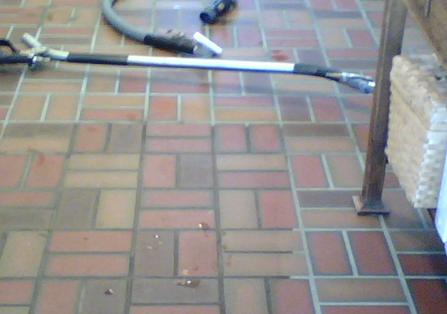 "Click here NOW for a FREE Estimate!" 
Don't spend hours on your knees scrubbing to clean your tile and grout.
Care Rite can clean it quickly and easily for you using our specialized equipment.
The main production tool is called the SX-12. It has a dome shaped cleaning head of which underneath is a spray arm that sprays high pressure cleaning solution at an angle spinning the spray arm washing and also extracting the dirt at the same time.
Mind you all the splashing water stays under the dome for very minimal mess. Edges are cleaned with an edging tool for better detail. All this done after Appling a pre-treatment and giving it time to dwell and loosen the soil. Often also scrubbing the grout lines with a brush designed just for that purpose.
Your Carpets, Area Rugs and Tile & Grout, along with Upholstered and Leather Furniture are big investments.
Make them last with regular cleaning. Putting it off will only make it worse.
Care Rite Cleaning & Protection Specialists, Inc
3615 Bunker Dr.
Rapid City, SD 57701